NEWS BULLETIN

Photographer: John Robinson
the 25th Anniversary of the
Great Outhouse Blowout
September 17, 2016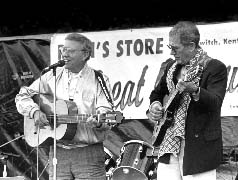 Come help us celebrate 25 years of the Great Outhouse Blowout at Penn's Store. From Chet Atkins and Billy Ed Wheeler 25 years ago to this year's races and entertainment this event is nothing but fun for all.
Historic Penn's Store, located 3 miles southeast of Gravel Switch, Kentucky, is the oldest Country Store in America still in ownership and operation by the same family. A Store site since 1845, it has been in the Gabriel Jackson Penn family since 1850.

This property is listed on:

* The NATIONAL REGISTER of HISTORIC PLACES

* DESIGNATED KENTUCKY HISTORICAL LANDMARK

* A KENTUCKY CENTENNIAL BUSINESS

Contact:

Jeanne Penn Lane, Fifth Generation

Historic Penn's Store

257 Penn's Store Road

3 miles SE, Gravel Switch,

Kentucky 40328

Tel: (859) 332-7706 / 7715

Website: www.PennsStore.com

Email: PennsStore@aol.com

Social:

FACEBOOK

YOU TUBE

PennsStoreKY

* For Updates & More information on performers check

Penn's Store FACEBOOK

* * * * * * * *

Schedule subject to change

Penn's Store FACEBOOK

+++++++++++

++++++++++++++++++++++++++++++++++++++++++++++++

Come by the Store (Open weekends)

Hours until October ... Saturday (11 AM - 6 PM) ~ Sunday ( 2 PM - 6 PM )

or

PHONE: 859.332.7715 EMAIL: PennsStore@aol.com

Also, spread the word!! We need all the help we can get!!!





Thanks to all of you who have supported Penn's Store in the past!!! We love you all!!!


<![if !supportLineBreakNewLine]>
<![endif]>

************************************

For More Information:

Penn's Store
257 Penn's Store Road
Gravel Switch, Kentucky 40328
Phone: 859-332-7706
E-mail: pennsstore@aol.com
GPS Coordinates: N37.549912; W085.028191


STORE HOURS
( All hours are "country hours" - give or take a few minutes.)

APRIL thru SEPTEMBER
Saturday 11 AM ~ 6 PM




Sunday 2 PM ~ 6 PM

OCTOBER thru MARCH




Saturday 11 AM ~ 5 PM




Sunday 1 PM ~ 5 PM

* Weekday hours are by perchance or appointment presently.




Weather conditions can alter Store hours.




If coming from a distance, it is advisable to call ahead.




( 859.332-7706 or 859.332-7715 )

For more information about Penn's Store visit Jeanne Lane on her Facebook page.