PENN'S STORE

Historic PENN'S STORE presents
the 25th Anniversary of the
Great Outhouse Blowout
September 17, 2016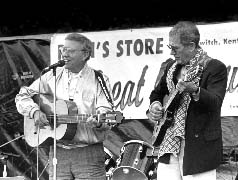 "BLOWOUT" The MOVIE
Premier
Documenting The October 17, 1992 Outhouse Dedication Ceremonies at Penn's Store
3 Miles southeast of Gravel Switch, Kentucky
The EVENT that brought Outhouse Racing to Penn's Store, Kentucky
FRIDAY EVENING ~ SEPTEMBER 16, 2016
Historic Penn's Store
6 PM ~ until
This year marks the 25TH Anniversary of the first " Great Outhouse BLOWOUT " event ~ the dedication of Penn's Privy which brought international attention to Penn's Store. All major television networks at the time, ABC, CBS, NBC highlighted the event and CNN broadcast segments world wide. The late world renowned guitarist, Chet Atkins and Country Music Hall of Fame inductee, Billy Edd Wheeler headlined the Dedication ceremonies ... plus many other notables, musicians and entertainers . Emcee's for the 4 hour concert and dedication were Wayne Perky of WHAS, TV & radio, and Johnny Randolph, of WAKY radio.
To honor the October 17, 1992 event ... Penn's Store will be showing on Friday Evening, September 16, 2016 a video made by the late D.C. May of Marion County, Kentucky capturing that historical day. The video ( which has been made into a DVD ) logs the day from the perspective of May who grew up near Penn's Store. There will also be shown a segment by Nashville's "Tennessee Crossroads" TV 8, that covered the event.
There are folks on the video that many will know, and also many who are no longer with us.
So ... for anyone that did not attend the 1992 Dedication of Penn's Privy ... or those who did and wish to reminisce .... or those who were not yet born ( 25 years of age and younger) ...
this is your chance to view "what" brought Outhouse Racing to Kentucky ... and continued the event now called The " BLOWOUT".
No admission will be charged.
A Music Jam, beginning at 6 PM will be offered as we await nightfall ...
Snack food will be available for purchase, or bring your own.
Bring a Chair.
Bring a Flashlight.
Bring an instrument ( if you want to join in the music jam ).
...... And travel back in time with us to see "history" happening.
To see more about the Great Outhouse Blowout 25th Celebration, click here.
To see the list of entertainers and their schedule, click here.
* For Updates & More information on the Outhouse Blowout check
Penn's Store FACEBOOK
* * * * * * * *