NEWS BULLETIN

Photographer: John Robinson
the 25th Anniversary of the
Great Outhouse Blowout
September 17, 2016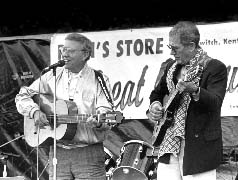 "BLOWOUT" The MOVIE

Premier

Documenting The October 17, 1992 Outhouse Dedication Ceremonies at Penn's Store

3 Miles southeast of Gravel Switch, Kentucky

The EVENT that brought Outhouse Racing to Penn's Store, Kentucky

FRIDAY EVENING ~ SEPTEMBER 16, 2016

Historic Penn's Store

6 PM ~ until

This year marks the 25TH Anniversary of the first " Great Outhouse BLOWOUT " event ~ the dedication of Penn's Privy which brought international attention to Penn's Store. All major television networks at the time, ABC, CBS, NBC highlighted the event and CNN broadcast segments world wide. The late world renowned guitarist, Chet Atkins and Country Music Hall of Fame inductee, Billy Edd Wheeler headlined the Dedication ceremonies ... plus many other notables, musicians and entertainers . Emcee's for the 4 hour concert and dedication were Wayne Perky of WHAS, TV & radio, and Johnny Randolph, of WAKY radio.

To honor the October 17, 1992 event ... Penn's Store will be showing on Friday Evening, September 16, 2016 a video made by the late D.C. May of Marion County, Kentucky capturing that historical day. The video ( which has been made into a DVD ) logs the day from the perspective of May who grew up near Penn's Store. There will also be shown a segment by Nashville's "Tennessee Crossroads" TV 8, that covered the event.

There are folks on the video that many will know, and also many who are no longer with us.

So ... for anyone that did not attend the 1992 Dedication of Penn's Privy ... or those who did and wish to reminisce .... or those who were not yet born ( 25 years of age and younger) ...

this is your chance to view "what" brought Outhouse Racing to Kentucky ... and continued the event now called The " BLOWOUT".

No admission will be charged.

A Music Jam, beginning at 6 PM will be offered as we await nightfall ...

Snack food will be available for purchase, or bring your own.

Bring a Chair.

Bring a Flashlight.

Bring an instrument ( if you want to join in the music jam ).

...... And travel back in time with us to see "history" happening.

* * * * * * * * * * * * * * * * * * * * * * * * * * *

* * * PRESS RELEASE * * *

Friends of Penn's Store and Kentucky Writers Day Celebration

You may recall meeting Jamie McDonald during the 2015 KWD CELEB event at Penn's Store. He was filming during the event.

Historic PENN'S STORE will be highlighted in the new upcoming PBS Show "American Originals: Made On Main Street" by Emmy Award winning creator, director, producer JAMIE MCDONALD.

Release Date in USA and Canada is JULY 9, 2016 and will be on the satellite for 3 years.

According to the latest from McDonald, reports from PBS stations ... KET and WKPC in Kentucky are going to be the first( to air show) - they will begin showing it in August. https://www.ket.org/series/AOMS/

And the big one WNET/NYC ( the largest PBS in America and broadcasts in other parts of the country ) will be airing ( dates unavailable at this time ).

Latest report from Penn's Store ... Tourist from Houston, Texas and Detroit, Michigan visiting Penn's Store over the weekend of June 25 -26 are already seeing the promo for "AMERICAN ORIGINALS" in their areas and includes Penn's Store in the trailer.

Check your local PBS station for air dates in your area.

* * * * * * * * * * * * * * * * * * * * * * * * * * *

... NEWS BULLETIN ...

Everyone ...

Plans are in the process for The "GREAT OUTHOUSE BLOWOUT".

DATE: Saturday ~ SEPTEMBER 17

TIME: 10 AM ~ 6 PM ( gates open at 9 AM )

PLACE: Historic PENN'S STORE

As a courtesy to all the participants of our 2016 Kentucky Writers Day CELEBRATION ... if you have Books or CD's for sale, or materials / promos you wish to hand out ... you are most welcome to " set up " at this event; no set-up fee.

You will need to let us know by AUGUST 30, 2016 of your intentions so we can reserve your "set-up space".

This is our 25TH ANNIVERSARY for the event. Those that reserve a "space" will be sent more info re: event and happenings.

I hope you can join us this year for our special celebration!

Best Regards to all,

Jeanne

Jeanne Penn Lane, Fifth Generation




Historic Penn's Store




257 Penn's Store Road




3 miles SE, Gravel Switch,

Kentucky 40328

To learn more about the Blowout, click here.

Historic Penn's Store, located 3 miles southeast of Gravel Switch, Kentucky, is the oldest Country Store in America still in ownership and operation by the same family. A Store site since 1845, it has been in the Gabriel Jackson Penn family since 1850.

This property is listed on:

* The NATIONAL REGISTER of HISTORIC PLACES

* DESIGNATED KENTUCKY HISTORICAL LANDMARK

* A KENTUCKY CENTENNIAL BUSINESS

Contact:

Jeanne Penn Lane, Fifth Generation

Historic Penn's Store

257 Penn's Store Road

3 miles SE, Gravel Switch,

Kentucky 40328

Tel: (859) 332-7706 / 7715

Website: www.PennsStore.com

Email: PennsStore@aol.com

Social:

FACEBOOK

YOU TUBE

PennsStoreKY

* For Updates & More information on performers check

Penn's Store FACEBOOK

* * * * * * * *

Schedule subject to change

Penn's Store FACEBOOK

+++++++++++

++++++++++++++++++++++++++++++++++++++++++++++++

Come by the Store (Open weekends)

Hours until October ... Saturday (11 AM - 6 PM) ~ Sunday ( 2 PM - 6 PM )

or

PHONE: 859.332.7715 EMAIL: PennsStore@aol.com

Also, spread the word!! We need all the help we can get!!!





Thanks to all of you who have supported Penn's Store in the past!!! We love you all!!!


<![if !supportLineBreakNewLine]>
<![endif]>

************************************

For More Information:

Penn's Store
257 Penn's Store Road
Gravel Switch, Kentucky 40328
Phone: 859-332-7706
E-mail: pennsstore@aol.com
GPS Coordinates: N37.549912; W085.028191


STORE HOURS
( All hours are "country hours" - give or take a few minutes.)

APRIL thru SEPTEMBER
Saturday 11 AM ~ 6 PM




Sunday 2 PM ~ 6 PM

OCTOBER thru MARCH




Saturday 11 AM ~ 5 PM




Sunday 1 PM ~ 5 PM

* Weekday hours are by perchance or appointment presently.




Weather conditions can alter Store hours.




If coming from a distance, it is advisable to call ahead.




( 859.332-7706 or 859.332-7715 )

For more information about Penn's Store visit Jeanne Lane on her Facebook page.