2017 Great Outhouse Blowout
Saturday September 16, 2017 - Outhouse Race
Sunday September 17, 2017 - Gospel Music Concert
Concert Performers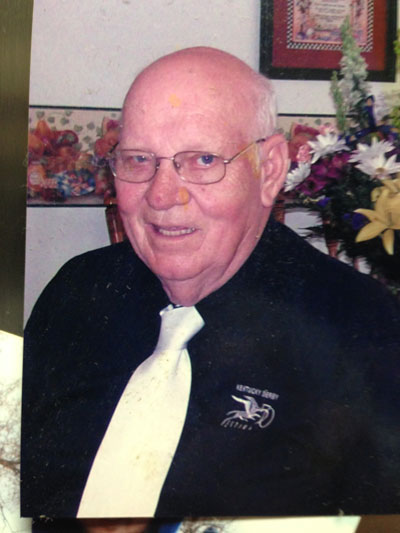 2017 CRESCENT MOON AWARD
D.C. MAY
Marion County, Kentucky
1938 - 2010
For his filming of the original 1992 "GREAT OUTHOUSE BLOWOUT" dedication event with Chet Atkins and Billy Edd Wheeler, from beginning to end of event, D.C. MAY has been awarded the 2017 CMA . His film will be shown to the public at the 2017 "GREAT OUTHOUSE BLOWOUT".
D. C. May Jr was born on October 12, 1938 directly up the river bottom, in the May family home, above Penn Store. Growing up there, Penn Store was an important part of his childhood and grown up life. He use to get up early and look towards the store to see if the light was on yet. Then he would take farm fresh eggs to trade for merchandise. He learned the value of hard work from his Dad and Mom, David Chester and Dewie May, playing in the creek with family and friends, the importance of good neighbors, and telling stories at Penns Store. He spent 2 years serving our nation in the Navy, returned home, married Barbara Ryan, and settled in Marion County, Kentucky. Raising 5 children Joyce, Dennis, Cindy, David, and Andy a trip to Penns store was always a treat for a Nehi Grape and a candy bar. He worked the family farms, and a factory job at Corning Glass, in Danville, until his retirement. He loved Kentucky Basketball, Horse Racing, Farming, taking pictures, his family; especially all the grand and great grand kids.
D.C. was called home, to be with our Lord, on April 28, 2010.
2017 Outhouse King


Hunter Penn is a freshman at Woodford County
High
School where he is a member of the varsity soccer team and basketball team. He is a member of the Calvary Baptist Church, Fellowship of Christian Athletes and Woodford 4-H Club, participat
ing
in the Country Ham Program. Hunter enjoys playing sports with his two brothers, Taylor and

Coleson

, spending time at the farm, fishing, and playing with his golden retriever, Lilly. Hunter is the son of Angela and

Tolen

Penn, grandson of Donald and

Murlene

Penn and great-grandson of Miles and Anna Penn.

PERFORMERS - Saturday September 16th, Sunday September 17th
BGarland Frederick – Bass and Vocals- Garland's style of playing adds wicked bass runs and fullness required in a three piece band. From Danville KY, Garland has played in several local groups. He has shared a stage with some national acts including Montgomery Gentry, Confederate Railroad and JD Shelburne. His love of Rock and Roll keeps him motivated to lay down those bass licks for Some Rock Band earning him the title of "Kingfish"
Tim Scott – Drums and Vocals- Tim started practicing his licks at an early age. He quickly went on to play in a variety of bands based in the Louisville area. In 1985 he moved to Danville and fit well into popular local bands including Little South, Straight Shot and SRB. Tim has shared a stage with several national acts but his favorite story is of his Grandfather, Howard May. From Gravel Switch and raised in a strict religious family, Howard became a "black sheep" because his love of music prompted him to buy a motorcycle and a fiddle in the 30s and drive to Lebanon on weekends to play for 25 cents. Just doesn't get better than that! Music runs in our veins!
Steve "Bygod" Smith – Lead Guitar, Keyboards and Vocals- The hardest working guy in the music business, Steve Smith fills in all the gaps. Accomplished on piano and guitar licks that make your skin crawl. Steve established Some Rock Band many years ago. The idea is to not only represent Rock and Roll by providing quality music but to provide entertainment as we remembered from bands of the 70s and 80s. Some Rock Band is all about the "show"! Steve has shared a stage with several national acts. His love of music shines through in his playing; Come watch the show!
Cadillac Tractor from left to right, Johnny Derringer on bass and vocals, Danny Jones on drums,
Kacy
Ellis vocals and

percussion,
John Ellis piano vocals and Mike
Cornette
lead guitarist and vocals. The band members have been playing around central Kentucky for years.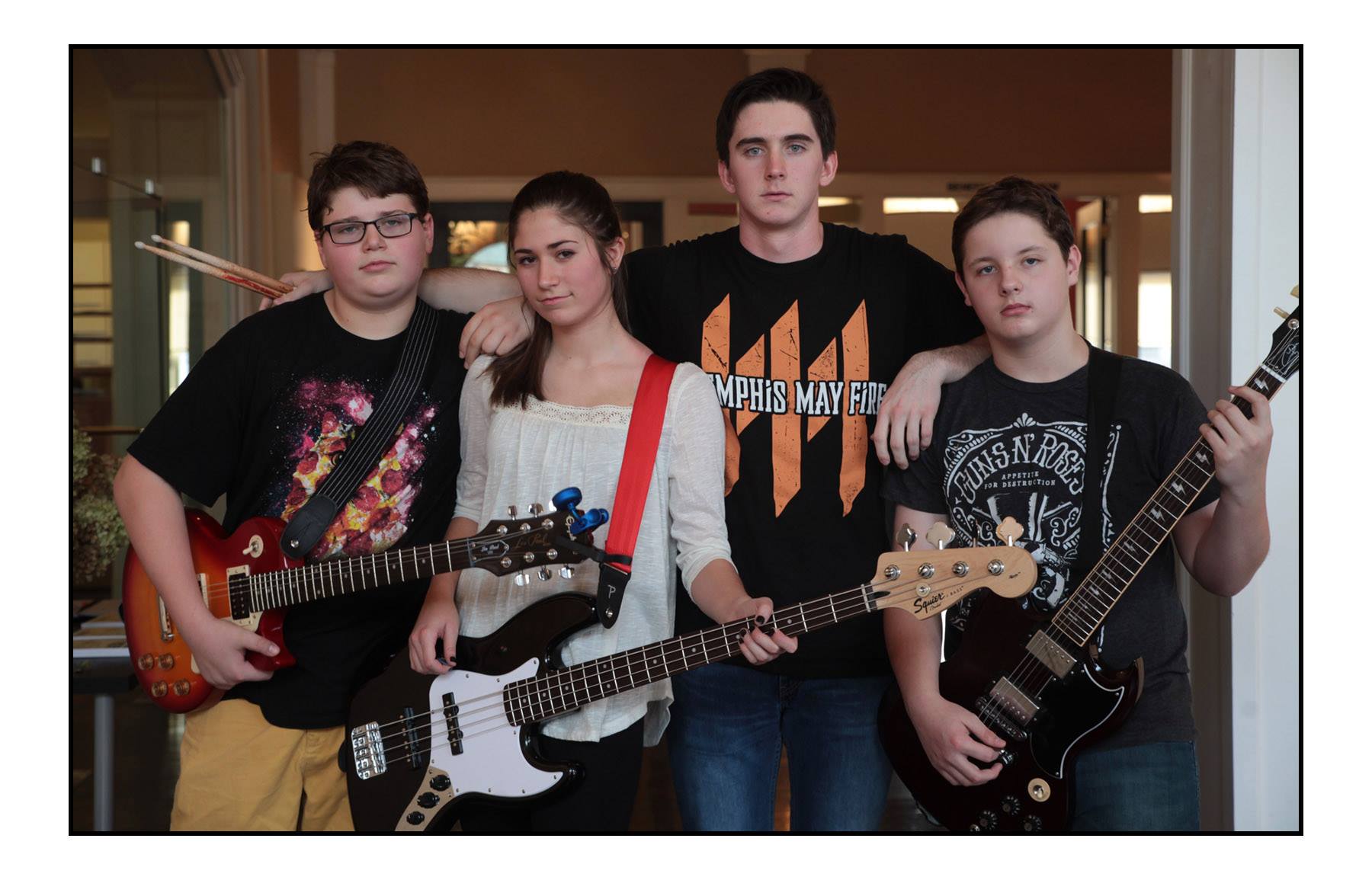 "Stratus
is a four piece Central Kentucky based rock band featuring Lexi and Landon Sarrett

on bass and guitar, Chase Riggs on drums and John Blades on lead guitar. The band originally formed in the fall of 2015 as part of the Rock School!

program

at Lexington Music Education. The style of the band is eclectic, with a mix of covers and original songs included in the bands set. The cover tunes they play range from AC/DC to Radio Head to Five Seconds of

Summer

. The bands original tunes are hook laden pop ear worms that will get you out of your seat and on the dance floor. The band has performed in the Central Kentucky area and elsewhere, having made their Nashville debut at the Whiskey Bent Saloon in the spring of 2016. Currently the band is working on a recording project, an as yet unnamed EP of five original songs scheduled for release in the fall of 2017. Check out Stratus, this band is on the rise!"
The Stereos
are a Lexington based rock band. The band is comprised of the following musicians: Will Darragh

on vocals and rhythm guitar, William Allen on bass, Hudson Roberson on lead guitar, Gabe Spencer on drums. The Stereos formed in the fall of 2016, forming in conjunction with the faculty members at Lexington Music Education and their "Rock School!"

Program.

The band plays mostly classic rock/grunge rock cover songs of such bands as Nirvana, Guns N' Roses, Credence Clearwater Revival, and the Kinks. They also throw in an original song or two on occasion in the style of Journey or The Scorpions. The Stereos play mostly in Lexington at such venues as Willie's Locally Known, The

Tadoo

Lounge, Al's Bar and The SEC Pub. Currently the band is working on playing out as much as possible and honing their skills as musicians and entertainers, so keep your eye on this up and coming youth band and come watch a show, you will not be disappointed!"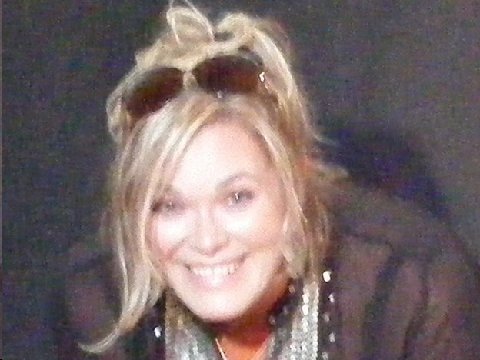 In 1992, Dawn Osborn shared the stage with her twin sister Dava (deceased 2000).After taking a break from the stage for 5 years, concentrating on songwriting, Dawn to entertain with her beautiful voice and variety of styles.
Tim Readnour picked up the guitar 35 years ago and hasn't stopped!!!
Songwriting ,
singing, performing , guitar !! He started singing gospel music as a
child ,
with his family. The teens hit and so did the rock n roll!
Spent several years in regional bands, Dalton and Trailer Trash.
Opened for such artists as
Lynryd
Skynyrd
, Trace Adkins, John Anderson, Little Big Town, Rick Skaggs, the list goes on and on. But then something changed.... He did! Gave his life to Jesus and now is currently recording his debut album!! Singing songs for Jesus and spreading the gospel through songs!! From current contemporary music
to
hymns , his style is vocal and guitar driven and sure to be something that makes you feel great!!!
Band members are Joe Caldwell...guitar;
Audrie
Readnour
(Niece) ...drums and percussion; and Jason Boyle... Bass


Gordon Webb,
a native of Eastern Kentucky and West Virginia, has spent most of his adult life in Elizabethtown and now resides in Lebanon.

He picked up the guitar in his teenage years after a football injury put a damper on his
mobility for several months.

Being the 9th of 10 children, and a teenager in the '60's, his musical influence was rock and roll and popular music of the 50's and 60's.

This is the style he has stayed with.

Although he does not write original music, he sometimes likes to alter the lyrics of rock and roll to spiritual wording and perform in his church (as in Sister Act).)
For more information contact Jeanne Penn Lane at
Penn's Store
257 Penn's Store Road
Gravel Switch, Kentucky 40328
Phone: 859-332-7706
E-mail: PennsStore@aol.com
GPS Coordinates: N37.549912; W085.028191

It is best to call ahead to check times and cancellations.

Map History Special Events Music Catalog Outhouse Stuff
Email Us Sign our Guestbook Other Links News About Us Home

This page last updated 09/11/2017